NSTRUCTIONS
In double boiler or medium size microwave safe bowl combine chocolate and heavy cream. Heat slowly on stove or in microwave (stirring every so often) until chocolate is melted and cream and chocolate are fully combined. Don't overheat.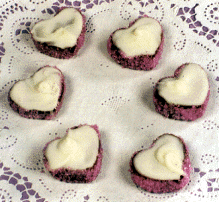 Remove from stove. Pour into large bowl. Add powdered sugar, a little at a time, and stir till completely combined. Mixture will be a little stiff.
Line cookie sheet with waxed paper. Put mixture on top spreading out as much as possible. Put another layer of waxed paper on top. Using your hands or a rolling pin, spread mixture out evenly to just slightly less depth than the thickness of your cookie cutter. (Ours was 1/4".)
Chill completely several hours or overnight.
Using small heart shaped cookie cutter (Ours was about 1-1/4") cut heart shapes out of the chilled chocolate mixture. Try to keep cutouts as close together to save time and effort. (There will be some chocolate mix left after all the hearts have been cut out. You can either rewarm, respread and recut more hearts out of the chocolate mix or let your willing helpers have samples.) Chill cutouts completely.
In double boiler or microwave slowly melt white chocolate till just melted (not too hot!) . Carefully dip tops only of chocolate cutout hearts; twisting hand a little as you invert them again to cause a little decorative swirl on top. Set to side.
When all hearts have been dipped in chocolate; and the white chocolate is completely dry, then dip edges in colored sugar. (If you're having trouble getting sugar to stick use a very small, clean cooking-only brush to brush a little water on edge before dipping.
Chill candies--best served when cold.
Store in airtight container. Makes about 45-50 1-1/4" candies.

*Colored granular sugars can be found in the cake decorating section of most stores.